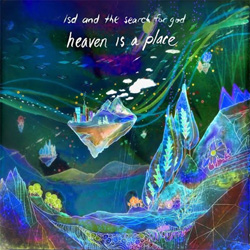 DS008 LSD and the Search for God "Heaven is a Place EP 12″
1st: 500 pressed; 200 SEA BLUE/300 BLACK
2nd: 500 TRANSLUCENT GREEN (6/26/17)

Almost nine years to the day since the release of their first, self-titled EP, LSD and the Search for God dose us once again with their blissful new EP, Heaven Is a Place–out January 15, 2016, on Deep Space Recordings!
In the time between LSD records, the band remained busy writing, recording, and performing, with this EP capturing a snapshot in time soon after the additions of Ryan Lescure and Ricky Maymi (Brian Jonestown Massacre). They've been perfecting their lucid live show up and down the U.S. West Coast and on tours across the U.S. and Canada, including sets at Austin Psych Fest Levitation (2013), Bathysphere (2013) with A Place To Bury Strangers, and Desert Stars Festival (2014) with The Dandy Warhols.
LSD twice toured the U.S. with legendary Creation Records band The Telescopes, with Liszt, Fifield, and Maymi doing double-duty each night, performing as members of both LSD and The Telescopes. This collaboration led to The Telescopes' recording project in Los Angeles that resulted in two records: the acclaimed EP, Harm (Neon Sigh 2014), and a 7" single, Thrown (Genjing Records 2015).
Includes heavy jacket, printed insert, and MP3 download.